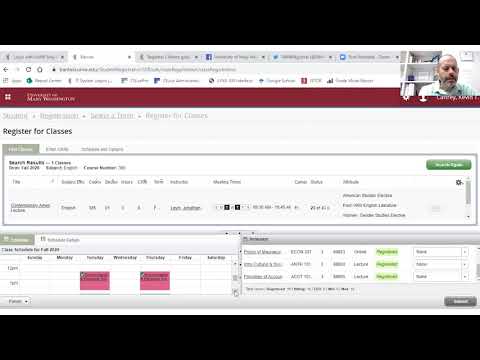 Course Schedule and Class Search Page
To search the schedule of classes, first select the term.
The basic search allows you to enter criteria to narrow your class search. To see all classes on the schedule, leave all criteria blank. The Advanced Search allows you to search using additional criteria.
Search results:
Once the search is performed, the search results provide information on each course. To view additional details for a specific course, such as the full course description, instructor, meeting dates and times, instructional method, and prerequisites, select that course to view the Class Details window.
REGISTRATION
 IN CLOSED CLASSES = CC PERMIT Students may register for courses that are closed or full, with instructor permission. If the instructor gives the closed class permission, two separate actions must occur 
to
 complete 
registration
 for a closed course: 1. The instructor must put the closed class permission on the student's record in Banner. 2. Once permission has been entered, the student must register for the course. It is the student's responsibility 
to
 do so. 
To
 register, the student must add the Course 
Registration
 Number, CRN, utilizing the "Enter CRNs" tab at the 
to
p of the screen then click "Add 
to
 Summary." Students must then complete the 
registration
 process by clicking "Submit Changes" and ensuring the class is successfully added 
to
 their schedule for closed courses in order 
to
 receive credit for them. NOTE: If the course requires CC and POI and is closed, the instructor must put both codes on the student's record before the student may register. Additional help regarding 
Registration
 Overrides can be found here.
REGISTRATION
 IN PERMISSION OF INSTRUCTOR CLASSES = POI PERMIT Students may register by permission of the instructor for courses that are marked POI. If the instructor gives permission, two separate actions must occur 
to
 register for a POI course: 1. The instructor must put the permission of instructor code on the student's record in Banner. 2. Once permission has been entered, the student must register for the course in order 
to
 receive credit. NOTE: If the course requires POI and is closed, the instructor must put both CC and POI codes on the student's record before the student may register. Additional help regarding 
Registration
 Overrides can be found here